Respect in Striving for Excellence (RISE)
The RISE Committee offers resources, programming, and community-building opportunities that focus on building respect and inclusion in academic workplace climates.
The RISE Committee is a group of faculty and staff working to support climates of respect and inclusion within academic units. It began in Fall 2018 as part of a pilot initiative funded by the Provost's Office to improve the workplace climate of academic units. The RISE Committee offers in-depth and cross-disciplinary discussions of relevant higher education climate research, practices, and interventions. The need for earnest attention to university climate issues is urgent as the COVID era persists and university constituents begin returning to in-person activities. Identity-based inequalities continue to be exacerbated by the pandemic and other crises. It is more important than ever to thoughtfully explore practices for creating inclusive, respectful spaces–whether they be virtual, physical, or hybrid. With this in mind, RISE offers a range of opportunities and resources to help our community continue the conversation on climate in this ever-changing academic landscape.

Climate Case Studies
The U-M ADVANCE Program's RISE Committee has developed a new series of resources, the Climate Case Studies, to support university leaders as they work to create more respectful, inclusive climates in their units. Each case study is centered around a common climate issue, with a list of ideas for how to approach the issue and concrete examples of what each approach might look like–all organized around RISE's Eight Levers to Foster Respect and Inclusion.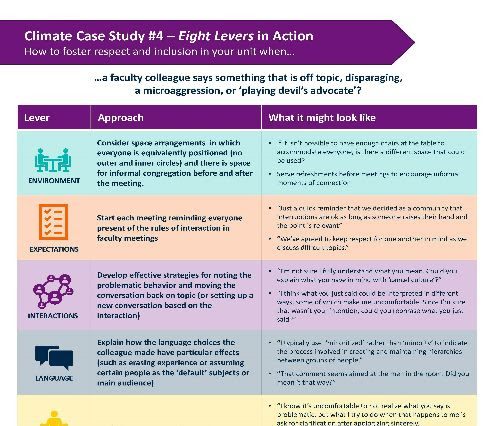 New Release!
_________________

Interrupting a Bad Actor

Climate Case Study #4
_________________

Proactive New Leader

Climate Case Study #3
_______________ Unit-wide Email Blow-up
Climate Case Study #2
Resistance to Mentoring Responsibilities
Climate Case Study #1
**Note: We recognize that the approaches shared in the Climate Case Studies will not work for everyone or in every context. Many factors, including the power dynamics of the unit, the social identities of the individuals involved, and external circumstances, affect the way a challenging climate issue might be addressed. We acknowledge that several of the approaches assume a particular leadership role and a certain amount of agency/power within the unit that do not reflect everyone's experience.**
Raising Respect: A Workshop for Campus Leaders: A cross-disciplinary, highly interactive workshop for campus leaders (broadly defined) interested in developing a unit climate where all people feel respected, supported, and valued. This workshop is evidence-based and action-oriented, presenting both data and concrete strategies. The first segment presents a framework for climate and then reviews research, conducted at U-M and beyond, to make a case for caring about respectful workplace climates. The remainder of the workshop is an interactive discussion addressing how leaders can actively cultivate more respectful and inclusive climates in their units. This workshop has been thoroughly redesigned for virtual delivery in AY20-21. Participants interact using chat-based activities, polls, and breakout rooms. In real time, we work through climate challenge scenarios that are particularly relevant for campus leaders right now. Participants also leave the event with access to the "Raising Respect" video series and other digital climate resources to take back to their units.
Climate Coffee: Sharing Climate Issues: An event series of informal conversations for participants to engage with each other on ways to improve the climate for respect and inclusion in their units. Climate Coffees are an opportunity to brainstorm more focused applications of the climate-shifting frameworks from the "Raising Respect" workshop. Attendees gather in small groups for guided discussion and problem-solving around a specific issue they are facing in their unit. Sessions are 60 minutes, and registration is limited to allow for individualized attention.
What can you do to improve the climate in your unit? This handout from RISE's "Raising Respect" workshop outlines eight focus areas for acting to improve climate.
An evolving list of climate-related resources for U-M faculty that includes both individual and unit-level offerings. Learn what programs and services are available for faculty who are grappling with campus climate issues and/or working to improve the climate of their unit(s). [Updated September 2020]
A list of works on climate issues, written by experts from the fields of Psychology, Business, Women's Studies, Education, and more.
The University of Michigan ADVANCE Program has compiled this information as a resource for those wishing to develop an anti-harassment program within their own scholarly or scientific society, meeting, or other professional setting.
FAQ designed to give guidance re: climate and its effect on the retention of faculty that are women and/or members of racial/ethnic minorities.
Important general principles of effective leadership.
Handbook created to show how policies, resources, and cultures that are work-life friendly are key to the University of Michigan for the recruitment, promotion, and retention of top scholars.
The U-M ADVANCE Program aims to improve our campus environment for faculty in four general areas: recruitment, retention, leadership, and climate. The ADVANCE Program assesses the campus climate through a series of campus-wide faculty surveys as well as individualized assessments of schools and departments.
RISE Together Messages
In an effort to facilitate a virtual community for campus leaders grappling with issues of climate, we shared resources, tips, and words of encouragement. RISE Together messages provided quick, actionable recommendations, helpful resources, and positive directions related to climate–all based on a theme from the Eight Levers to Shift Climate for Respect and Inclusion.
What are People Saying about RISE?
In the current time where we are all struggling with the strains of academia and issues of diversity, equity and inclusion, the RISE training is critical for providing leaders with new and innovative tools. What is key about this training is that it is accessible and easy to quickly implement in day to day leadership and in creating overarching change in a working group. I think a greater understanding of these ideas will help build respectful and inclusive climates at University of Michigan. — Kanakadurga Singer, Pediatric Endocrinology, Michigan Medicine
The Raising Respect workshop is a powerful and tremendously engaging experience that goes straight to the heart of how to effect positive changes in climate within academia. Grounded in science, the workshop provides actionable strategies that academic leaders can use and tailor to the needs of their units. — Noel Perkins, Mechanical Engineering, College of Engineering
I was very impressed by the RISE Committee workshop I attended last term. It was fast-paced, highly informative, and admirably focused on concrete strategies for fostering a climate of respect and reducing the incidence of interpersonal conflict and injury in complex academic units. My only regret was that I didn't have the benefit of this session at the start of my term as chair. — David Porter, Professor and Department Chair, English Language and Literature, College of LSA
My nearly two years as a member of the RISE Committee was a very meaningful experience. I enjoyed working with the committee to better understand the climate issues we possess and ways that we could address them. I personally have learned much about the importance of climate, and its impact on happiness, productivity, retention, and organizational success. The dedication and enthusiasm of the RISE Committee gives me great hope for the future of climate at Michigan! — Todd Austin, Professor, Electrical Engineering and Computer Science, College of Engineering
RISE Committee members are senior faculty and staff drawn from across campus.

Sara Armstrong
Director, CRLT Theatre Program
Show/hide bio
Sara Armstrong earned her Ph.D. from the Interdisciplinary Theatre and Drama program at Northwestern University in 2013. She holds an M.A. in Theatre Studies from the University of Kansas, a B.A. in Theatre from the University of Oklahoma, and was a postgraduate fellow in Dramaturgy/Playwriting at the University of Birmingham, England. Her dissertation focused on the role operating theories of embodiment play in privileging and marginalizing particular student bodies in performance learning spaces. She has over twenty years of experience as an actor, director, dramaturg, arts administrator, and educator across professional, university, and community contexts. She has led the CRLT theatre program since 2012 establishing strategic priorities for the company that align with the needs of a range of higher education communities and the Players commitments to advancing social justice and equity in academic spaces.

Eric Bell
Astronomy
Show/hide bio
Eric Bell is a Professor of Astronomy. He received a B.Sc. in Physics and Astronomy from the University of Glasgow in 1996 and a PhD in Physics from the University of Durham in 2000. He was a postdoctoral research assistant at the University of Arizona and then a staff scientist at the Max Planck Institute for Astronomy in Germany. He joined the faculty at the University of Michigan in 2009. His research focuses on understanding how galaxies grow and develop throughout cosmic history and how we can use observations to learn about the dark matter-driven growth of galaxies. At UM he has served on a number of committees, many focusing on equity and inclusion, often in teaching contexts. He serves as the Graduate Program Director and Associate Chair for the Department of Astronomy. Prof. Bell is a recipient of a John Dewey Award for teaching excellence and an Arthur F. Thurnau Professorship, the University of Michigan's highest honor for teaching excellence.

Tom Braun
Biostatistics
Show/hide bio
Tom Braun is a Professor at the University of Michigan (UM) School of Public Health and has been a faculty member of the Biostatistics Department since 1999.  He has a broad background in the design and analysis of clinical trials and clinical data specific to oncology.  He is a leading expert in the design of adaptive Phase I clinical trials and has also published methodology related to the analysis of longitudinal data, diagnostic tests, and competing risks.  He also was previously a faculty member of the School of Dentistry, assisting in the study of periodontal disease and oral and throat cancer.  Tom is thrilled to be a member of RISE and working to promote positive and respectful experiences for everyone in academia.
Vincent Hutchings
Political Science
Show/hide bio
Vincent Hutchings is the Hanes Walton Jr. Collegiate Professor of Political Science at the University of Michigan and a Research Professor at the Institute for Social Research. In 2020, he was also appointed as a University Diversity and Social Transformation Professor. He received his Ph.D. in 1997 from the University of California, Los Angeles. Professor Hutchings teaches courses in Black politics, public opinion & voting behavior, and racial attitudes. In 2003, he published a book entitled Public Opinion and Democratic Accountability, from Princeton University Press. Currently, his research examines the ways in which political campaigns and the media frame information about racial issues in order to activate and make politically relevant the voters' sympathies and/or antipathies for particular racial groups. Professor Hutchings has received multiple grants from the National Science Foundation. In 2012, Professor Hutchings was elected as a Fellow to the American Academy of Arts and Sciences (AAAS).
Carolyn Kuranz
Nuclear Engineering and Radiological Sciences, Climate and Space Sciences and Engineering
Show/hide bio
Professor Kuranz is an experimental plasma physicist with research interests in high-energy-density plasmas, hydrodynamic instabilities, radiation hydrodynamics, and magnetized plasmas. She performs her research on high-power laser facilities around the world, including the National Ignition Facility and the Omega Laser Facility. Professor Kuranz received her PhD in Applied Physics from the University of Michigan in 2009 and her Bachelors in Physics from Bryn Mawr College in 2002. Recently she was named a Fellow of the American Physical Society and has been awarded the Ted Kennedy Family Faculty Team Excellence Award and the American Astronomical Society Laboratory Astrophysics Division Early Career Award. Professor Kuranz also serves as Director for the Center for Laboratory Astrophysics, a National Nuclear Security Administration Center of Excellence, and has a joint appointment in the U-M Climate and Space Sciences Engineering Department.

Jennifer Linderman
ADVANCE Director, Chemical Engineering
Show/hide bio
Jennifer Linderman is the Pamela Raymond Collegiate Professor of Engineering, Professor of Chemical Engineering and Professor of Biomedical Engineering.  She has served as Director of the UM ADVANCE Program since 2016.  She is a Fellow of the American Institute for Medical and Biological Engineering and a recipient of the Harold R. Johnson Diversity Service Award and a Rackham Distinguished Graduate Mentor Award. Her research centers on developing mathematical and computational models that integrate different types of experimental data, typically over multiple scales, to address fundamental questions about cell signaling pathways, the diseases of cancer and tuberculosis, pharmacokinetics/pharmacodynamics, and drug delivery.

Yeşim Orhun
Business Administration, Information
Show/hide bio
Yeşim Orhun is an Associate Professor of Marketing and Michael R. and Mary Kay Hallman Fellow at the Ross School of Business, and an Associate Professor of Information (by courtesy) at the School of Information, University of Michigan. She is also a faculty associate at the Center for Positive Organizations and a faculty champion at the Sanger Leadership Center. Her research is in the domains of behavioral economics and industrial organization, with an emphasis on underprivileged populations. In recent work, she examines the role of gendered beliefs in the academic performance gap between women and men studying Business Administration. Her current research stream is examining the role of motivated beliefs in high-stakes decisions. Professor Orhun serves as an Associate Editor at two leading journals in Marketing. She has an M.A. in Economics and a Ph.D. Business Administration from the University of California at Berkeley. She lives in Ann Arbor, Michigan with her husband and two young children.

Robin Queen
Linguistics, English Language and Literatures, Germanic Languages and Literatures
Show/hide bio
Robin Queen is Arthur F. Thurnau Professor and Professor of Linguistics, English Language and Literatures and Germanic Languages and Literatures. Her teaching and research center on sociolinguistic questions related to language contact, language ideology, sociolinguistic perception, and language change. She has also considered questions concerning the ties between language and social identities, particularly queer identities. Her work draws on data from a wide variety of sources, including Turkish-German bilinguals, American lesbians, daytime television dramas, American films dubbed into German, experimental data concerning sociolinguistic perception, and shepherds interacting with stockdogs. Her book, Vox Popular: The Surprising Life of Language in the Mass Media (Wiley, 2015) explores how language variation functions within the fictional mass media.

Isis Settles
ADVANCE Associate Director, Psychology, Afroamerican and African Studies
Show/hide bio
Isis Settles is Professor of Psychology and Afroamerican and African Studies at the University of Michigan. She received her BA from Harvard College and her PhD in Psychology from the University of Michigan. Dr. Settles taught at Michigan State University for 15 years in the Department of Psychology. Using an interdisciplinary, intersectional framework, her research focuses on two related processes: 1) the experiences, perceptions, and consequences of unfair treatment directed at devalued social group members, especially Black people and women; and 2) protective factors and coping strategies used by members of devalued social groups to counteract experiences of mistreatment, especially those protective factors related to group identity (e.g., racial identity). Two major research projects she is currently working on are an examination of the experiences of faculty of color in academia and the role of diversity in interdisciplinary team dynamics.

Ruby Tapia
English and Women's and Gender Studies
Show/hide bio
Ruby C. Tapia is Chair of the Department of Women's and Gender Studies and Associate Professor of English and Women's Studies. Her work engages the intersections of photography theory, feminist and critical race theory, and critical prison studies. She is co-editor of Interrupted Life: Experiences of Incarcerated Women in the United States (University of California, 2010) and author of American Pietàs: Visions of Race, Death and the Maternal (University of Minnesota, 2011). Her current book project, The Camera in the Cage (forthcoming, Fordham University Press), interrogates the intersections of prison photography and carceral humanism and puts forth an argument and methodology for abolitionist aesthetics. Her courses include "Carceral Visualities," "Gender, Race, and Incarceration," and "The Prison in Literature, Photography, and the Moving Image." She has facilitated creative writing workshops via the Prison Creative Arts Project at Women's Huron Valley Correctional Facility in Michigan, is a member of the Theory Group Think Tank at Macomb Correctional Facility for men, and is the lead faculty member of the Critical Carceral Visualities component of the Documenting Criminalization and Confinement project at UM's Humanities Collaboratory.

Sarah Moncada
ADVANCE Staff

Todd Austin (Former Member)
Electrical Engineering and Computer Science
Show/hide bio
Todd Austin is a Professor of Electrical Engineering and Computer Science at the University of Michigan in Ann Arbor. His research interests include computer architecture, robust and secure system design, hardware and software verification, and performance analysis tools and techniques. Currently Todd is director of C-FAR, the Center for Future Architectures Research, a multi-university SRC/DARPA funded center that is seeking technologies to scale the performance and efficiency of future computing systems. Prior to joining academia, Todd was a Senior Computer Architect in Intel's Microcomputer Research Labs, a product-oriented research laboratory in Hillsboro, Oregon. Todd is the first to take credit (but the last to accept blame) for creating the SimpleScalar Tool Set, a popular collection of computer architecture performance analysis tools. Todd is co-author (with Andrew Tanenbaum) of the undergraduate computer architecture textbook, "Structured Computer Architecture, 6th Ed." In addition to his work in academia, Todd is co-founder of SimpleScalar LLC and InTempo Design LLC. In 2002, Todd was a Sloan Research Fellow, and in 2007 he received the ACM Maurice Wilkes Award for "innovative contributions in Computer Architecture including the SimpleScalar Toolkit and the DIVA and Razor architectures." Todd received his Ph.D. in Computer Science from the University of Wisconsin in 1996.

Lilia Cortina (Former Member)
Psychology, Women's and Gender Studies
Show/hide bio
Lilia Cortina is Professor of Psychology, Women's and Gender Studies, and Management. She received her B.A. in Psychology from Pomona College and A.M. and PhD. in Psychology (with a graduate minor in Quantitative Methods) from the University of Illinois at Urbana-Champaign. Dr. Cortina has been a faculty member at UM since 2000. She is a Fellow of the American Psychological Association and the Society for Industrial/Organizational Psychology. Using survey and experimental methods, she researches sexual harassment and incivility in the workplace. In addition, Dr. Cortina occasionally serves as an expert witness in forensic venues, translating findings from the scientific literature to inform law and policy.

Cynthia Hudgins (Former Member)
ADVANCE Associate Director of Administration
Show/hide bio
Cynthia is responsible for ADVANCE's unit administration, including finance, human resources, facilities and operations. She works closely with the Director to develop and implement strategic plans to meet ADVANCE's mission. She has been at the University since 1991 and with the ADVANCE Program since 2004. She received her B.A. and M.A. degrees from Indiana University and her Ph.D. in higher education from the University of Michigan.

Gretchen Spreitzer (Former Member)
Management and Organizations, Business Administration
Show/hide bio
Gretchen Spreitzer is the Associate Dean for Engaged Learning & Professional Development and the Keith E. and Valerie J. Alessi Professor of Business Administration at the Ross School of Business at the University of Michigan (RSB).  She is a core faculty member at the Center for Positive Organizations. Her research focuses on employee empowerment and leadership development, particularly within a context of organizational change and decline.  Her most recent research is examining how organizations can enable thriving, especially in contexts dealing with the new world of work such as coworking spaces. Based on extensive field research, she has authored many articles on contemporary issues in organizational behavior in leading journals. She has a Bachelor of Science in Systems Analysis from Miami University (in Ohio) and completed her doctoral work at the Michigan Business School.  She lives in Ann Arbor, Michigan with her husband, who is a public policy economist and has two daughters.