Elizabeth Caroline Crosby Research Awards
ADVANCE at the University of Michigan announces the Elizabeth C. Crosby Research Award to help meet career-relevant needs of individual instructional, research, and clinical track faculty in science and engineering if meeting those needs will help increase the retention or promotion of a diverse faculty in science and engineering. Several grants of up to $20,000 will be awarded.
The ADVANCE Program reports each year on the Elizabeth Caroline Crosby Research Award recipients and how the funds were utilized by awardees.
2019-20 Crosby Grant Application Now Open
The application for the Elizabeth Caroline Crosby Grant 2019-20 is now open, and the application can be found here. View the Crosby Grant call and guidelines. Applications, including CV and budget components, must be submitted by November 25th 2019, at 12:00 PM.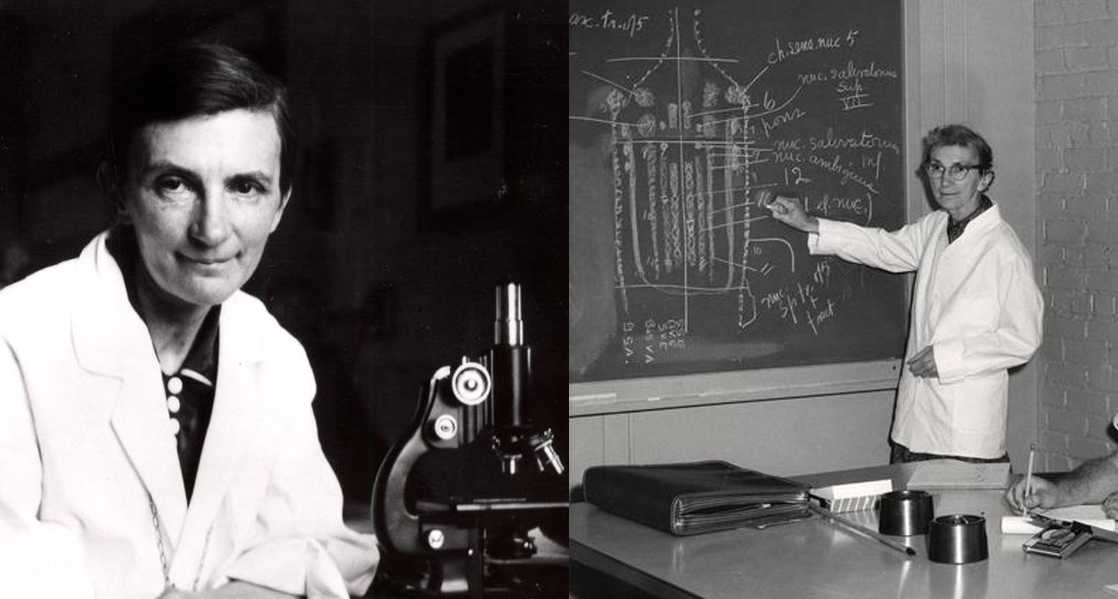 ABOUT ELIZABETH CAROLINE CROSBY (1888-1983)
World-renowned Neuroanatomist, Elizabeth Caroline Crosby (1888-1983), began her long and distinguished career at the University of Michigan in 1920. Starting as an Anatomy instructor, she rose through the ranks to become the first woman full professor of the medical school. A dedicated researcher and teacher, Dr. Crosby published extensively in comparative anatomy and received several prestigious awards. She was the first woman to be awarded the Henry Russel Lectureship at the University of Michigan (1946); she earned the Henry Gray Award in Neuroanatomy in 1972, and the National Medal of Science in 1979.
After her retirement in 1958, at age sixty-nine, Dr. Crosby served as a clinical consultant at both the University of Michigan and University of Alabama, where a former student held a faculty position. Although she never married, she adopted an 11-year-old girl in 1940 and another girl in 1944. She remained active in scientific work until the end of her life in 1983, at the age of ninety-four.
2018-19 Crosby Recipients
Ana Baylin (School of Public Health)
Jennifer Blesh (School for Environment and Sustainability)
Gyorgyi Csankovszki (College of Literature, Science, and the Arts)
Shanna Daly (College of Engineering)
Hui Deng (College of Literature, Science, and the Arts)
Aubree Gordon (School of Public Health)
Anna Mathew (Medical School)
Sierra Petersen (College of Literature, Science, and the Arts)
Emily Provost (College of Engineering)
Elizabeth Roberts (College of Literature, Science, and the Arts)
Patricia Wittkopp (College of Literature, Science, and the Arts)
Green Life Sciences Symposium: Plant-environment interactions across scales (September,
 2018)       
"The 

Crosby

 grant, along with supplemental funding, allowed us to expand the Green Life Sciences Symposium to a two-day event with 26 invited speakers, a poster session, and a career fair. This gave us the flexibility to invite established keynote speakers, 'up and coming' assistant and associate professors, and a number of women and/or minority scientists to share their research. We were likewise able to offset some of the travel costs for junior scientists (postdoctoral researchers and graduate students) to attend. Overall, the symposium was a great success, with excellent talks, lots of networking, and an incredibly fun and supportive vibe. The support from the Elizabeth 

Crosby

 award helped make this symposium a reality!"                                                                                                   
Regina Baucom, Ecology and Evolutionary Biology
"Having the Crosby award meant that our research was not delayed when two people had to be out of the lab for an extended time. We were able to hire someone to help move their projects forward, and it benefited the careers of at least four people: both of the people who were out of the lab, the person we hired, and me." 
Katherine Spindler, Microbiology and Immunology, Medical School
The Elizabeth Caroline Crosby Research Award supported novel investigation into the advancement and leadership opportunities for women surgeons. A qualitative study provided rich insights into barriers and facilitators experienced by women surgeons. We also learned about individual and institutional factors that affect advancement and leadership opportunities. The funding was essential to support collaboration with an executive coach to facilitate confidential research interviews, and to offset costs for a research assistant and administrative personnel.
Coming together around this research sparked stronger synergy among team members and mobilized development of the Michigan Women's Surgical Collaborative (MWSC). In 2017, MWSC launched the inaugural Women in Surgery Leadership Development Conference. The high demand and incredibly positive feedback from participants encouraged us to make this an annual event.
Gurjit Sandhu, Michigan Women's Surgical Collaborative
As of 2019, 179 Crosby Grants have been awarded.
27% of Crosby recipients have used a portion of their funding to assist with child or other dependent care needs.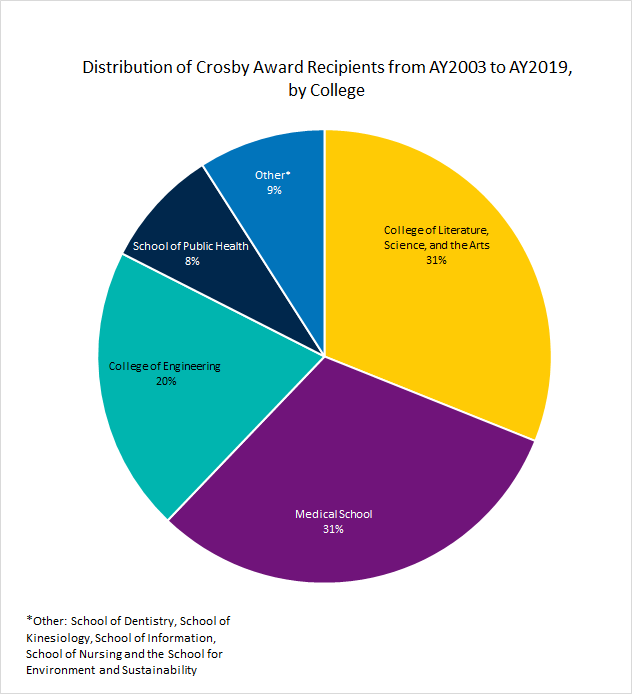 2018-19 Crosby Recipients
Ana Baylin (School of Public Health)
Jennifer Blesh (School for Environment and Sustainability)
Gyorgyi Csankovszki (College of Literature, Science, and the Arts)
Shanna Daly (College of Engineering)
Hui Deng (College of Literature, Science, and the Arts)
Aubree Gordon (School of Public Health)
Anna Mathew (Medical School)
Sierra Petersen (College of Literature, Science, and the Arts)
Emily Provost (College of Engineering)
Elizabeth Roberts (College of Literature, Science, and the Arts)
Patricia Wittkopp (College of Literature, Science, and the Arts)